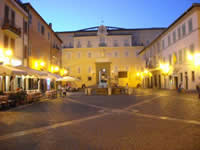 ROMAN CASTLES:  FRASCATI, NEMI (the Strawberry town),POPE'S SUMMER RESIDENCE  at CASTEL GANDOLFO WITH VIEW OF THE LAKE,
LUNCH (price not included) in a typical restaurant.
We will pick you up at your hotel or wherever you wish by our air conditioned vehicles-
Our skilled multilingual driver guides will show you the most interesting places of the city  by giving you the key information from the car.
Qualified stores for shopping will be suggested.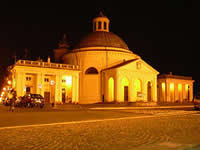 The Castelli Romani (Castles of Rome) is a group of communes in the province of Rome, Italy. They are located at short distance south-east to Rome, at the feet of the Alban Hills.
The Alban Hills (Italian Colli Albani) are the site of a quiescent volcanic complex in Italy, located 20 km southeast of Rome.
The Pope's summer residence is a 17th century building designed by Carlo Maderno for Pope Urban VIII. The papal palace, and the adjoining Villa Barberini that was added to the complex by Pius XI, have enjoyed extraterritorial rights since the signature of the 1929 treaty with Italy; the little piazza directly in front was renamed Piazza della Libertà in the first flush of Italian unity after 1870. The papal palace remained unused from 1870 until 1929. Popes Pius XII (1958) and Paul VI (1978) died at Castel Gandolfo.
The lake of Albano ,or lago di Castel Gandolfo, is a small volcanic crater lake in the Alban Hills of Lazio located  15 miles in the  southeast of Rome. On a height overlooking it is Castel Gandolfo, where the Pope has a villa.
The lake is the deepest (170 metres) in Lazio. It is about 3.5 km long by 2.3 km wide, formed by the overlapping union of two volcanic craters, an origin by the ridge in its center, which rises to a depth of 70 meters.