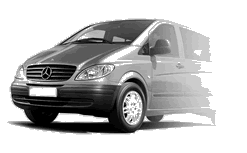 The interest and passion paid for our activity was supported by the beauty of our peninsula which does not lack anything to be called the "wonderful country".
Its history (more than 3000 years),the artistic beauties,Churches,fountains,monuments, medieval castles,paintings of our famous masters (Michelangelo, Raffaello, Giotto, Leonardo da Vinci etc.) natural beauties (Mediterranean sea and Dolomiti Mountains) and whatever... have been deepened by studies having tourist address finalized in a real business dedicated to the customer.

We wish him to transfer our tourist knowledges together with our worldwide recognized sympathy: How ?... On board of our vehicles: Mercedes Sedan, Minivan, Minibus driven by our expert and professional multilingual drivers.

You can familiarize yourself with a new way of doing tourism offered by our staff as alternative to the traditional tours.

We will drive you through your preferred places by giving descriptions (historical, religious, artistic, natural and so on) along the way with dedicated stops so that you cannot lose anything of the visited places.

We are sure that everything will be exciting for you... there's nothing else to do otherthan knowing each other.