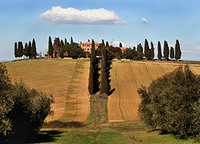 We will pick you up at your Port of arrival from where a full day excursion of 9 hours is going to start. Our skilled multilingual driver guides will show you the most interesting places of the city / area by giving you the key information ON BOARD OF the car
CHIANTI WINE AREA FROM LIVORNO PORT:
Your driver will pick you up at the ship at 08.00 a.m. to take you to RADDA, GAIOLE and CASTELLINA in CHIANTI, the 3 most important towns of the Chianti
Wine Area. You will have the opportunity to drive & walk in the narrow streets of these medieval towns full of local food and wine stores, souvenirs and outdoor cafés. We'll also drive you to visit some wineries where you'll have wine testings of the Classic Chianti Wine that you could purchase at factory prices. Time for lunch ( price not included ) in a typical local restaurant. In the afternoon we will drive you back to the Port of Livorno.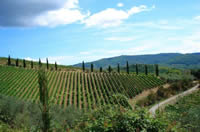 Chianti is a famous red wine of Italy, which takes its name from a traditional region of Tuscany where it is produced. It used to be easily identified by its squat bottle enclosed in a straw basket, called fiasco ("flask"; pl. fiaschi); however, the fiasco is only used by a few makers of the wine now; most Chianti is bottled in traditionally shaped wine bottles. Low-end Chianti is fairly inexpensive, with a basic Chianti running less than US$10 for a bottle. More sophisticated Chiantis, however, are made and sold at substantially higher prices. Today, Chianti is generally consumed at room (technically "cellar") temperature, like most other red wines.
Until the middle of the 19th century Chianti was based solely on Sangiovese grapes. During the second half of the 19th century Baron Bettino Ricasoli who was an important Chianti producer and, in the same time, minister in Tuscany and then Prime Minister in the Kingdom of Italy, imposed his ideas: from that moment on Chianti should have been produced with 70% Sangiovese, 15% Canaiolo and 15% Malvasia bianca (Malvasia bianca is an aromatic white grape with Greek origins). During the 1970s, producers started to reduce the quantity of white grapes in Chianti and eventually from 1995 it is legal to produce a Chianti with 100% sangiovese, or at least without the white grapes. However, for a wine to retain the name of Chianti, it must be produced with at least 80% sangiovese grapes. It may have a picture of a black rooster (known in Italian as a gallo nero) on the neck of the bottle, which indicates that the producer of the wine is a member of the "Gallo Nero" Consortium; an association of producers of the Classico sub-area sharing marketing costs. Since 2005 the black rooster is the emblem of the Chianti Classico producers association. Aged Chianti (38 months instead of 4-7), may be labelled as Riserva. Chianti that meets more stringent requirements, (lower yield, higher alcohol content and dry extract) may be labelled as Chianti Superiore. Chianti from the "Classico" sub-area is not allowed in any case to be labelled as "Superiore".