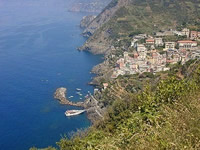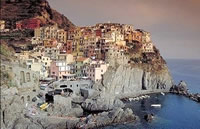 DEPENDING ON THE TIME AT YOUR DISPOSAL, WE MAY ARRANGE TWO OR MORE DAYS SIGHTSEEING TOURS -
PLEASE LET US KNOW HOW MANY DAYS YOU WOULD LIKE TO STAY IN AND WE WILL PROVIDE YOU WITH THE APPROPRIATE ITINERARY, PROGRAMS AND COSTS (hotel reservation included) -THANK YOU

REMARKS: IF YOU ARE IN A CRUISE AND YOU STOP FOR ONE DAY IN THE PORT OF LIVORNO, WE MAY ARRANGE FOR YOU A " ONE DAY SHORE EXCURSION " TO THE 5 TERRE (See the appropriate page in the Shore Excursions menu).

We will pick you up at your hotel or wherever you wish by our air conditioned vehicles.
Our skilled multilingual driver guides will show you the most interesting places of the city / area by giving you the key information from the car.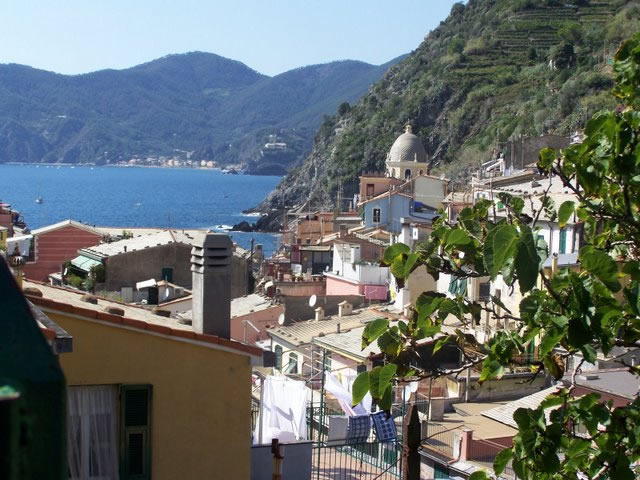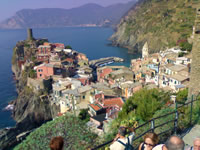 The Cinque Terre (pronounced CHEEN-kweh TEHR-reh) is a rugged portion of coast of the Riviera to the west of the city of La Spezia, in the province of La Spezia in the Liguria region of Italy comprising five villages, "The Five Lands": Monterosso al Mare, Vernazza, Corniglia, Manarola, and Riomaggiore.
The Cinque Terre, due to the geographical and anthropomorphic features of the territory in which they are found, represent one of the main tourist attractions of the Riviera of La Spezia and in general of the Liguria region. The orographic context is a naturally rugged, hilly territory, attenuated by the presence of terraces for crops, which degrade towards the seafront in steep slopes.
Man's action over the centuries has modelled the territory without altering its delicate ecological balance by terracing the slopes, an agricultural technique intended to exploit as much as possible the heavily sloping soils which degrade towards the sea, thereby making it one of the most characteristic landscapes of Liguria.
The " 5 Terre " : The five hamlets of the 5 Terre are located on the west coast od the riviera; the villages of Monterosso, Vernazza, Corniglia, Manarola and Riomaggiore either clinb to the cliff face or are concealed in miniature inlets perfectly blending in to this unique
and unspoilt landscape. The area ahas been turned into a National Park and proclaimed harritage by UNESCO.
Monterosso is renowed for the unspoilt architecture of the Medival Centre, now a thriving cultural centre, with pleasant beaches for more mundane holidaymakers.
The topography of Vernazza is outstanding: tower-like buildings flank the narrow halleyways leading down to the anchorage which is set in a fairy-tale bay.
Corniglia is a "fraction of the commune of Vernazza
is not directly adjacent to the sea. Instead, it is on the top of a promontory about 100 meters high, surrounded on three sides by vineyards and terraces and the fourth side descends steeply on the sea. This romantic pathway called " Via Dell'Amore " is dedicated to lovers