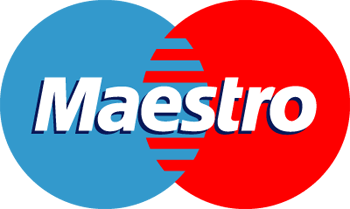 GUEST  BOOK

PLEASE E-MAIL US YOUR SERVICE EVALUATION OPINION. IT WILL BE PUBLISHED IN THE GUEST BOOK PAGE.

THANKS FOR CHOOSING "ITALY DRIVING GUIDE" FOR YOUR  VACATIONS.

We were a group of travellers to Italy from my local church in Derby Midlands Uk. Our ages
ranged from Seven to eighty-one years of age. So a pretty mixed bag of people.
We under took a journey from Rome to San Giovanni some 550 miles on a round trip. Joseph emailed me and spoke to me
on the phone prior to my trip to Rome, this was very
reassuring for me. I had his number through the
recommendation of a friend who has used his company
before. In addition to Josephs company i contacted a few
others all were competitive, but I chose Joseph because he
began to plan our travel agenda with me prior to our
holiday and was in contact via phone and email. Our
journey was planned and agreed before we left, price was
agreed and no further charges were made at the end of the
trip. Joseph even did a evening tour of Rome on our return
, with full commentary and historical data, this actually
was added to our trip for free by Joseph, he made no
charge for it.

Joseph and his fellow drivers spoke perfect english and
had great knowledge of all the country and villages we
passed through. During our 4 hour journey Joseph took no
personal calls on his phone and only communicated via
hands free. I think safety is paramount when you organise
a trip for fourteen people. On our journey we made an
agreed number of comfort breaks and non were to his profit
each stop was agreed. Prior to our arrival in San
giovanni he arranged for lunch at a local restaurant we
paid the local price of 15 euros, most other local
restaurants were charging tourist 25 euros so we got great
value. I have no hesitation in recommending Joseph at
@italydriving and we hope to return to Italy next year and
will be using his again.

Another note prebook him from the airport to your hotel,
we were overpriced by the airport taxi drivers by 40 euros
, they regularly overcharge tourist.

I would have no hesitation in travelling with him again if
you need any further information you can call me on my
cell phone uk 447968059768 or home number uk 0441332765571

Kindest Regards.


Karan O Connor
Nov. 12, 2009


---

Joseph

I am pleased to offer comments on our trip:

Seven members of our family, including two senior citizens (80+ years old), booked a
trip to Orvieto and Assisi from Rome. We were delighted to have Carlo ( italy Driving Guide driver )as our driver.
He was extremely courteous and well-informed. He offered various insights into the places we visited and it was evident that he had a great knowledge of Italian and
Roman history. In deference to our senior citizens, he made every effort to drop us off at locations where we would not have to walk far or would be able to avoid walking uphill as much as possible. There is no doubt that we would use your
company's services if we visit Italy again and we will recommend your company to friends who travel there.

James L. Coogan
Hinsdale, IL - U.S.A.
October 26, 2009

---

Hi Joseph

Thank you once again see you next year

below my thoughts on our trip Karan x
you might think that handling a Pilgrimage group of travellers ranging in age from 6 to 81 would be a difficult challenge for anyone , especially in a crowded city such as Rome, with the added request of a trip to the "Shrine of Padre Pio", San Giovanni Rotondo, but think again.
> Following the recommendation of a previous traveller I contacted "Italy Driving Guide" , from the first email , I was met with true professionalism and help. Joseph not only gave us an excellent price (which was lower that all quotes we received) he also organised our the visit to see Padre Pio in San Giovanni with precision, ensuring we had pre booked tickets for the visit, lunch at a beautiful local restaurant. From collection at our Hotel in Rome, "Italy Driving Guide" continued to exceeded our expectation through out the day, the journey to San Giovanni Rotondo is over four hours and Joseph ensured we drove with the upmost comfort, the journey was filled with fantastic views of Rome and Joseph and his fellow driver ensured we had both historical facts and local knowledge of the wonderful countryside we saw through out the four hour journey. After a wonderful day at the sanctuary we returned to Rome to be given a evening tour of the sites of Rome at night this along with its historical facts was all together a different experience than a day tour . The drivers were truly excellent commun icating in wonderful english and answering all our questions , engaging with the youngest traveller to our oldest pilgrim.
On leaving Rome we pre-booked them for our transfer to the airport, they transported us to the airport at the most competative price in Rome. Another bit of advice beware of Airport rank taxis always pre-book collection from airport you will save money and time.
I rarely write recommendations , maybe some would say I am very hard to please and i make no apologies for this, so here goes " Italy Driving Guide" have exceeded my expectation on all counts, Price , Service, local knowledge and customer care.
So for any journeys in or around Rome or even further afield they will deliver a number one service

Given this positive experience, my advice to Rome visitors is that, if you are spending time in Rome, especially during the high season, hiring a private tour guide is well worth the money. For our money, "Italy Driving Guide " added considerable value, enjoyment, comfort and experience to our visit to this magnificent city and beyond

Mrs Karan O Connor, Stenson Fields,Berby UK –Sept. 09, 2009

---

Hi Joseph (Italy Driving Guide)Thank you for wonderful experience we had with you. We enjoyed our trip in Florence and Rome - Italy.

We are pleased with the bus service - it was always
prompt and reliable, and the driver was patient and helpful.
Thanks for giving us excellent assistance and professional information about Rome and Florence history and monumental arts.
My recommendation for everyone who will attempt to get in touch with Italy driving Guide is: you can rely with confidence to them cause service they render to their clientele goes beyond the normal standards requirements.
Ecellent is the tourist knowledge in terms of culture.

Thank you
Elaine Ding
Manila- Philippines
The 6th of July 2009

---

My family and I were on our cruise ending at Civitavecchia. We stopped in rome for 4 days and have crossed a substantial part of Italy country.
Italy Driving Guide gave us the opportunity to admire italy beaties like, Rome, the vatican tour, Assisi, Florence, Amalfi coast and also took us up to Venice where we got a licenced guide.
Their expertise is so amazing and tours had a fantastic and positive impact on our time spent in Italy that we would recommend everyone and anyone to this company

Cesar Campaio
Sao Paulo do Brasil
June 25, 2009

---

I used Italy Driving Guide (Joseph and Carlo)last April 2008 and May 2009. Their English is very, very good, they are funny, good drivers, and always happy to show us their Rome, the churches and Tivoli Villa D'este. I wouldn't hesitate to recommend such Co.to those interested.
Thomas O' Neil
Philadelphia, PA -USA-
May 14, 2009

---

CAR SERVICE: We used Italy Driving Guide 3 times:
aiirport to Rome city hotel, Hotel to Civitavecchia port, and then from port to Crown Plaza Hotel Rome Airport Hotel. They were always waiting for us at the designated time and were very professional. They also took us for a Rome by night sightseein.
I would highly recommend them and will use them again on our next trip.

Clem Mancuso
New Haven, Connecticut.
The 1st of Apr. 2009

---

Oggetto : Re: R: our vacation in Rome - Dec. 23 - 29
Data : Sun, 3 Jan 2010 20:21:28 -0800 (PST)

Hi Joseph,
Thank you again for all you did to make our trip to
Italy
memorable.  We will never forget your warmth and kindness
that you showed to our family.  

Peace,Joni
Jan. 3, 2010




---

Oggetto : RE: our vacation in Rome - Dec. 23 - 2Data : Sat, 2 Jan 2010 10:00:52 -0500

Joseph,We made it home safe.  Thank you for helping our family to
have a great experience in Rome.  You and Carlo were
fantastic.  We really enjoyed our time with you and when we
come back to Rome, we will definitely contact you for
assistance.  We will also let any of our friend know about
your services.  I hope you have a great 2010, we wish you
and your family much happiness and good health.

God Bless,

Marty Nelson
Jan. 2, 2010

---

Dear Joseph,  

Thank you for your assistance when we were in Italy: Rome,Pompeii, Florence and Venicence. Your service was very efficient and friendly. Thank you for your help and kindness.

Paul - May 19, 2010

---

We are safely home after a wonderful vacation in Italy. We greatly

appreciate the part that you played in this trip. You were a good companion

as well as guide and driver and that added to our experiences.

The trip with you through the Dolomite Mountains was terrific. I am so glad

that I had you driving instead of trying to do it on my own while navigating

and watching for the many photo opportunities.

Here are a couple of photos and others will follow in the next few days.

Leonard

The 4th of June 2010

---

dear joseph, I thank you for the kindness shown during our visit to Italy and the excellent service you provided us. will indicate how sure the service to friends

The 30th of July 2010 - Edward S.

---

Joseph,

 

Thanks for your service I appreciated very much. everything went well.

 

Tom Aug. 1, 2010

---

Hi Joseph

Finally some time to write to you to thank you for the wonderful experience. Please fix any spelling mistakes.

 I started my journey with Joseph via the internet searching for appropriate transport for our upcoming trip to Europe, when I came upon his web site,  there were six of us from New Zealand travelling to Rome catching a Cruise ship and visiting various Ports around Italy and other European destinations.

 My initial inquiry was transport from the Port of Civitavecchia into Rome, to visit the  Vatican Collesum etc Joseph e mailed me straight back with suggestions and he asked what other Ports we were visiting he advised he could pick us up in all Ports.  I had lots of questions, it's a big thing going half way around the World so I required lots of information.  Joseph would reply straight away answering any query we had in a prompt and professional manner.

 We made arrangements for Joseph's company to pick us up in four ports,  Rome,  Naples, Livorno and Trapani Sicily .  Joseph sent a photograph of himself and his vehicle,  so while waiting at the Port of Civitavecchia we easily recognised Joseph,  a big Italian hug and our journey begun.  Joseph had organized a guide for us for the Vatican,  the guide was excellent, we did not have to wait in queues, straight through, any questions we had she was able to answer, a very enjoyable and memorable visit.  Joseph then took us to the Coliseum; he waited patiently for us, onto the Trapaini Fountain, pointing out all things of interest on our tour.  He got us back to the Port of Civitavecchia  in plenty of time.  The next day we met Joseph in Livorno, he took us to Pisa, we climbed to the top of Pisa a great adventure,  then onto Florence seeing all the sights and some time for shopping. We came back a different way seeing more of Italy.

 When we went to Trapani Sicily, Joseph had organized a pick up from another colleague were Silvano picked us up, Silvano made lots of suggestions for our tour, we saw old castles, a winery, an olive grove in production, salt production, cable car ride  and many other things, a great day, so much more than a tour would take you from the ship.

 Our last day of our 20 day cruise was again with Joseph who picked us up from Naples,  we had rung him and asked if he could organize a guide for Pompeii,  again this was organized for us and again we got through the crowds easily, Joseph waited for us then took us onto Sorrento where we had an Italian lunch of Spaghetti Bolognaise and a glass or wine.  On this day again the views were beautiful, stopping for photo shots nothing was too much trouble for Joseph who wanted to show us as much as he could of his beautiful country.  We all had a wonderful experience great memories and lots of photos.

 I cannot thank Joseph enough for his help in making our trip memorable, Joseph and Silvano English was great so we had no problems communicating.  I was planning for six people and it is hard trying to please everyone in the end we had eight people two more from the cruise,  but everyone had a great time and experience seeing sights we would not see if we tried to go alone.

 Joseph we all thank you very much for your professionalism and organizing such great tours for us, I can certainly recommend your company, until we meet again one day Chow.

Sue, Kevin,     Peter, Merelene,    Peter, Lorna    Ian and Peggy

Tauranga           Auckland               Auckland        Thames  New Zealand

 Nov.11th, 2010

---

Bonjour Joseph,

Nous avons beaucoup apprécié cette magnifique croisière. Que de 
merveilles...

Nous espérons aussi que tout va bien pour vous.
Encore un grand merci pour cette journée inoubliable à Rome, en votre 
compagnie.

Avec nos meilleures pensées.
Daniel et Denise (les 2 suisses + Lill - USA)



Le 18 de Sept. 2010

---

Marcos Curcio
Message: dear joseph, I thank you for the kindness shown during our visit to Italy and the excellent service provided by you. will indicate how sure the service to friends. Bye...Marcos - Aug. the 11th, 2010

Hi Mr Joseph,
I'm writing from Brazil to thank you for the beautiful time you gave,
to me and my family, with the trip to Pompeii and the Amalfi Coast.
Italy is very beautiful and with incredible scenery: Amalfi, Atrani,
Conca Dei Marini, Praiano, Positano and Sorrento. A spectacle!
We felt more comfortable and safe with the kindness of our Driver-guide.
We would recommend him to friends.
Best Regards
Vanda Freitas and family - The 2nd of Oct. 2010

Dearest Joseph, on behalf of our family, I want to thank you for making our trip to I Italy perfect from beginning to end.  You were very responsive to all our inquiries prior to our arrival and were even more responsive to our needs while in Rome.  Our initial thoughts were to hire a guide for a couple of tours.  However we quickly appreciated your attentiveness and knowledge of the area and had you plan our entire agenda for the week, which surpassed all of our expectations.  Touring with you was like having a personal friend rather than just another tour guide interested in a 9 to 5 job.  Any other tour simply wouldn't have the personal touch you gave all of us.

 With our deepest appreciation,

Your American friends, Regina, Mike, Aaron, Ray, Pam and Alyssa

Tampa, Florida  USA

October 2010

 On a side note, you always have a place to stay in Florida with us.  As Regina said, "you started out as our guide and then became part of our family".  Thanks for all the gifts and especially Aaron's birthday cake, it was great timing and meant a lot to him.

 Thanks, Mike

Hi Joseph,
Hope you are doing goood !!
 
We had a wonderful wonderful experience of your service.....you made sure everythin goes well with our plan. your guidance rocks !!! Highly hgihly recommend you to my all my frnds whn in italy.....your were very informative & is an excellent service provider !! you really know yuor customers welll & makes sure their trips goes perfect too !!
 
We all thank you for bein there, hope to see sure when we visit Italy again....
 
PS: Dolomites, naples, amalfi, sicily, sardinia ----- lots is pending still :-)

 
BR,
Charmi. Nov. 12th, 2010

"We had a wonderful time in Rome with our driving guide Joseph.  He made sure we were able to see all the major attractions and still have time for pizza and gelato.  Joseph explained the history of Rome in perfect English as we drove to each place of interest.  With only one day in Rome, it was difficult to imagine that we could see The Vatican City, Forum, Colosseum, Spanish Steps, Piazza Navona, Trevi Fountain, and San Luigi Dei Francesi, but somehow, Joseph managed to make it happen.  Having our own driver was perfect as it allowed us to see exactly the sites we wanted to see.  We will definitely be using Italy Driving Guide again!!!"

Peg ( Singapor ) the 22nd of Jan. 2011

My Dear Joseph,

 Meeting you was one of the best things about our visit to Rome!  Because of you, we were able to make every minute of or short stay into a memory to keep forever.....you showed us sites we woud never have seen otherwise.  And, of course, Sophie and Sarah fell in love with you! 

 We hope that things have gone well for you since we last saw you in July.  Our time in Stresa was wonderful and Rob's and Suzanne's wedding was amazing.  There was an enormous amount of press when Rob and Suzanne were married in the Mayor's office....even TV cameras!  I imagine the interest was because a mayor of an Italian town was performing the marriage of a mayor from California. The event & photos appeared in La Stampa the day after the wedding. 

Carole Hatch July 2010

We are a

group

of  italian/americans

 

friends

 of Denver

(Colorado

- USA

)

and

mountain

skiers

who

wanted to

plan

a

skiing holiday

in the Dolomites

(

Italy

)

last January 2011.




After

careful

selection

we

considered it

appropriate to

choose

as driver guide

Joseph

(Italy

driving

 

guide

)

that

according to his

credentials

gave us

some

professional reliability

associated with

a

very competitive price.




Joseph

took us

at Marco

Polo airport

(Venice) and

after having

made  knowledge  of  the  

group

he took care of the transfer to

a

traditional

Tyrolean

hotel

he

booked

 for

us

in

 

Pfalzen

(

Brunico

) in

the heart

of the

Italian Tyrol

.




Joseph

explained  us

the program

of the

holiday

in addition to the

major

places

where

to ski

and

visit

: Cortina

D'

Ampezzo

,

Sesto

Moso

,

Kronplatz

,

Corvara

,

Val

Badia

,

San

Candido

, Alleghe

,

Ahrntal

 

Selva

 Val Gardena

,

Canazei

, Arabba

and so on

.




Thanks

to

Joseph

who

loves

the

Dolomites

,

it

has

been

an unforgettable vacation

that

we recommend

to all

and that

we will be repeating

in the future

.

Joseph

has made us

appreciate the

beauty of

nature

and

the landscape

by providing  valuable

information on the history

of the

Dolomites

and its

origins

.

We

also

appreciated

his  

ability

as  

skier by

skiing

with him

and

we visited

the

most

famous

resorts

of

the Dolomites

.


In other words, had become a friend of ours, that is one of us making us feel at ease to the point of realizing that we were not taking advantage of a service.


We wish to thank and recommend to all without doubt Italy driving guide and Joseph as driver guide for  professionalism and his friendship given to us.

Tarquinio, Maurice, Anthony, Richard, Jade, Joseph, Loris, Dorothy, Joseph.


Denver, 2/7/2011

_____________________________________________________________________________________________________________________________________________________________________________________________________________________
We returned home a few days ago after having spent our holidays on the Italian Dolomites. My brothers David, Arthur and I (Peter) we woul uld like to thank Joseph for showing us the beautiful Italian mountains (the Dolomites). Thanks to Joseph and his organization Italy Driving Guide, we recommend to all, we visited beautiful places in the minivan..........We'll never forget.
Phoenix (AZ) USA Feb 22nd 2011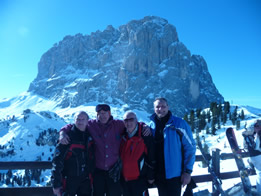 ______________________________________________________________
Just a note to say thank you for your hostility,  we appreciate your professionalism  in guiding our group of 7 while we were touring a day at Rome. We weill contact you if we travel again to Rome in the future.
Paul Kung from New York - June 2011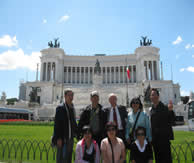 Our touring time with Joseph was fabulous.....he is so professional, so knowledgeable and helped us learn and experience so much of Italy! He is very caring, always wants to help and extremely flexible......he became part of our family while we were in Italy......we're so grateful to him for taking such good care of us!
Grazie Joseph, Ciao, hope to see you again soon;

Allan, Stephanie & Alexandra from Canada - July 2011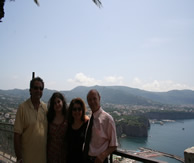 If you are looking to see everything you have ever read about, seen on TV, watched in a movie or heard about from freinds, have Joseph be your tour guide around Italy. Not only will he take you to all those "famous" places, he'll also help you to experience true local color.

Joseph's personality is so easy going and he has a great sense of humor. He's very accomodating and adaptable. It was never a big deal if we didn't have a set itinerary or we changed our minds mid-stream, he went with the flow and we got to see everything we wanted to see.

You can always take yourself on a tour of Italy, but you will miss the many things an experienced tour guide such as Joseph can show you. If you are headed to Italy, give him a call. I strongly recommend him if you want to get the most out of your visit. ly
Lisa, Atlantic City New Jersey - USA July 2011
______________________________________________________________
Wrecently took a trip to Italy in late September – weather was beautiful. We had pre-arranged Joseph as our driver. He came recommended by some friends. He was great! Spoke English and Italian, and very knowledgeable about everything and every place.
He knew of all the great little places to eat and shop that we would have never had known about on our own. He also took care of getting us reservations, checked into hotels, and dealing with our luggage. He took us to restaurants but left us alone to enjoy our family dinners while he kept a close eye on our luggage in the van. There were 6 of us. We invited him to share dinner with us on our last night, and it most enjoyable. He was very flexible with our travel plans. There were times we needed him and times we did not. Part way through our trip, my husband fell, and suffered a head trauma, and spent the next 8 days in the hospital in Arezzo. Our 2 week vacation in Italy turned into a 6 week stay. Once we knew my husband was out of immediate danger, my family and I finished the last few days of our vacation. We went to Sienna (was an incredible place) and then on to Florence, which is where I left all of my family. Joseph took me back to the hospital, and then to get a rental car for the next 4 weeks. He was in constant contact with me, offering to translate or do anything we needed. He told me "I would never be alone". He was totally invaluable and a godsend. Once we received clearance to fly home, he came to Castiglion Fierentino and took us back to Rome, found us a hotel, and then came back in the morning to take us to the airport. Being in a foreign hospital is extremely difficult if you don't speak the language. It was very comforting to have Joseph only a phone call away. Driving in Italy is quite a challenge, as the Italians are a bit impatient and drive very fast. While I had to quickly learn to drive on my own for 4 weeks - I was in a smaller town.... The thought of maneuvering around in the larger cities would have been a nightmare! We highly recommend his services.
Bob & Diana Goodwin
Sidney, Nebraska - Sept. 2011

__________________________________________________________________
We had originally contacted Giovanni (you can also call him Joseph) about driving us to another city about 5 hours from Rome. At the last minute we changed all our plans and decided to stay just in Rome. Giovanni weathered all the last minute change of plans with equanimity.
We were travelling with our disabled four year old grandchild so our plans had to be extremely flexible and he was happy to go along with whatever we asked for. He was extremely kind with our granddaughter which we appreciated. We intend to call Giovanni whenever we return to Italy. He can be contacted at info@ItalyDrivingGuide.com.
August & Katalina from Washington DC (USA) May 2011
_______________________________________________________________
We had a wonderful time site seeing in Tuscany and Umbria and visiting the towns of Montepulciano, Sienna, and Florence. What made our trip so great was our guide Joseph. When we left Rome we started touring the Italian countryside with Joseph as our driver and when we finished our trip he was ourmore than just our driver, he was our guide, translator and historian all rolled up in one but most of all he became a our good friend. We would have been lost without him. Not only was it great to travel with someone who could speak Italian but also someone who knew the history of the surrounding area and towns, the location of great resturants, historic hotels to spend the night at, museums and miscellaneous attractions. It was like having a human encyclopedia at your fingertips. There is no question that our trip would not have been as pleasant if it had not been for Joseph our italy driving guide. Ciao Lee Goodwin
Lee Goodwin from Sioux City (Iowa) Sept. 2011
______________________________________________________
Joseph
I would like to thank you for a great tour of your beautiful country. My friends and family had a great time thanks to you and your passion. I am sure my grand daughters had a life changing experience. 
Thanks again for making our trip so enjoyable.
Wayne Anderson (from Iowa USA) August 2011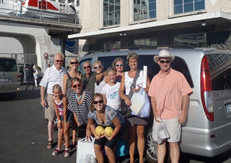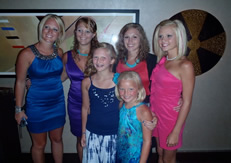 _____________________________________________________________________________________________________________________
Thank you so much for a wonderful and magical 12 days in Italy for
myself, Mary, Drew,and Joan!  You made our stay very special and you
certainly made us feel like part of your family!  Easily made adjustments to
our schedule and the trip to Venice (where we ALL enjoyed the gandala ride)
and St Marks square, and the shopping was very special, as was Pisa,
Florence, Assisi, and the guided tours in Rome.  The last night was the most
special when you set reservations at Zodiac and the evening with mystical
beauty, with the tour by night of Rome!   I cannot express and thank you
enough for how special you made the Italy experience for our family!  Mr.
President was VERY impressed and if you are ever in the states "our door is
open".  You are more than a guide.  You are a friend we will have forever.
We will recommend your services to anyone we know coming to Italy.  Thank
you so much again! Gratia!  Will send pictures to attach from Pisa, and
Venice (gandala).
Thanks again!!

Andy Ruesewald
Senior Account Executive
YRC San Antonio July 2011
___________________________________________________________________________________________________________________________________________________